HAVE A QUICK SEARCH IN OUR STOCK
Just arrived
View our newest machines
NEW, USED OR
MACHINES

TO RENT
For the past decades, Brabant AG Industrie has reached the excellent reputation of being a reliable supplier of:
Forklift trucks
Towing trucks
Hydraulic platforms
Excavators
Miscellaneous
A close, enthusiastic and driven team is always there for you, so that you can count on the best service, solid knowledge and support for your machines. In consultation with you, we search for the most perfect solutions for your company.
We take care of the maintenance, any repairs and the necessary safety inspections regarding your current machinery with great pleasure.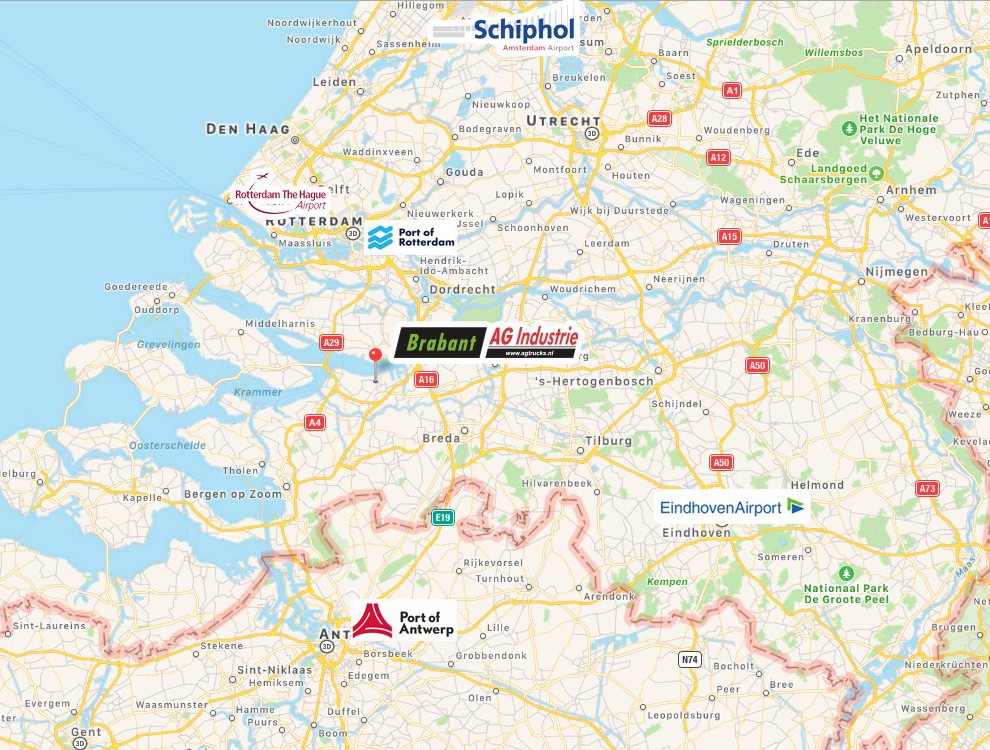 Towing trucks: large offer
We have a large product range of used towing trucks, especially by the Terberg brand. Why do we offer you mainly Terberg towing trucks? Because we want to offer you materials with the best quality. Whether it's about trailers, reach trucks, hydraulic platforms or towing trucks. Only products with the finest quality are delivered by Terberg. Besides that, we have a large offer in other brands:
Terberg Towing trucks
Mol Towing trucks
Kalmar Towing trucks
Yard Towing trucks
Ferrari Towing trucks
Mafi Towing trucks
Forklift trucks: a wide range in brands
Brabant AG Industrie in Klundert (near Breda, the Netherlands) is the right place for used and new forklift trucks (summary of all forklift truck brands). We check if the used forklift trucks still meet all requirements. Only if they do, we offer them for sale. We are also the right place for parts of forklift trucks, because of our wide product range in them. On top of that, we extensively offer the following forklift truck brands:
Caterpillar Forklift trucks
Daewoo Forklift trucks
Fantuzzi Forklift trucks
Hyster Forklift trucks
Hyundai Forklift trucks
Kalmar Forklift trucks
Lancer Forklift trucks
Linde Forklift trucks
Manitou Forklift trucks
Mitsubishi Forklift trucks
Mora Forklift trucks
Nissan Forklift trucks
SMV Forklift trucks
Still Forklift trucks
SVE Forklift trucks
TCM Forklift trucks
Toyota Forklift trucks
Yale Forklift trucks
Yang Forklift trucks
Planning on buying a forklift truck? Brabant AG Industries is the right place!
For buying both a new forklift truck and a used forklift truck, there is no better place than our specialised company Klundert (near Breda, the Netherlands). Brabant AG Industries is also an excellent partner in renting or leasing a forklift truck.
Brabant AG Industries offers a wide range in forklift trucks. New and second-hand. From an electric forklift truck for internal transport to a basic pallet truck. And from an advanced stacker to an extremely viable narrow corridors truck for using indoor. But also for buying or renting a diesel or lpg forklift truck for the more complex outdoor work in the construction or industry business, Brabant AG Industries is an excellent partner.
The wide product range of forklift trucks, both new and second-hand, makes sure that all price ranges are available at AG Industries. The price of an used forklift truck starts at 7.000 euros, a new forklift truck is between 15.000 and 50.000 euros. Do you prefer to rent or lease a forklift truck? AG Industries only works with the best customized agreements. Like our service and maintenance agreements, those are completely adjusted to your company. Besides forklift trucks of the world's market leaders like Toyota and Still, Brabant AG Industries among other sells the Linde brand, the forklift truck that is known for its high residual value.